Foggy Swamp Tribe
Admin




Posts

: 333


Join date

: 2010-07-18


Age

: 21


Location

: traveling the four nations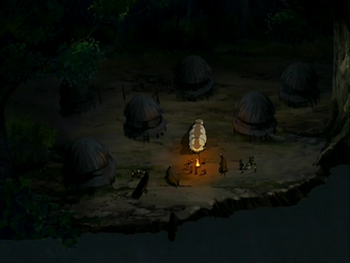 Jaya sat on a boat with the other guys going out hunting. They road through the swamp at full speed. Jaya had been living with the swamp bender since she was 6 and was the only girl. She was just as good as the other guys at hunting and waterbending. "Boarmonkey at two o'clock." she yelled to the driver over the sound of the motor (aka the waterbender). She jumped into the swamp water with the other benders and slowly swam to the shore. There, one boy ran around and distracted it causing Jaya to be able to come in with an ice dagger, sending it at the animal from behind. "Perfect aim." she said smiling. They hauled it into the boat and went back to the small camp.
When they got back to camp, the sun was just setting into the treetops. They all gathered around the campfire and roasted the game on sticks over the open fire. Jaya sat next to her dad and ate the meat ravenously. "I love meat." she said smiling. Another guy around the camp fire responded with a, "Here here!" They all laughed.
That night as the small groups fires went out, Jaya made her way to her hut with her father. "Night Jaya," one of her friends said. "Night Nue." she said yawning. She bended some water onto her face to wash it off for the night. Then she slipped into her cot. As she tried slept, she dreamed about some traveler coming to her camp and her going on some adventure. She smiled as she dreamt, because she longed for something to come and bring excitement. She loved her life, but longed for something like that to happen.
Last edited by Suki on Thu Aug 05, 2010 2:31 pm; edited 1 time in total
When she woke up, the sun drifted through cracks in the hut. Her father was already gone, probably out patrolling or something. She got dressed and walked out into the camp. Men bustled about as she made her way past the huts and through some vines. She looked out onto the river. The mist swirled and sunlight that made it through the thick upper foliage cut through it like a knife. She bended some of the mist around in her hand and walked to where a few other teenagers were sitting in a sandy clearing. "Hey Jaya." Nue said. He was one of her friends. "Hey Nue." she responded and sat down beside him and her other friends. A few minutes later, their teacher walked through some vines he bended away form himself. "Welcome students. I hope you are all ready for another wonderful lesson." Master Ti-nuch was a middle aged man who came to about 5'9. He had long brown hair which he kept back in a long ponytail. "As you remember, last week we practiced bending the vines and plants. As your homework, you were assigned to bend a vine into a bow tie shape. Teruaki, please come demonstrate." Teruaki was one of the more advanced members of the group. He nodded and walked out in front of everyone and picked up one of the vines that Master Ti-nuch had gotten him. He moved his arms quickly, and before you knew it, he had a perfect bow tie. "Excellent work. Jaya, would you like to try?" he asked. Jaya got up and walked to the front. She had had trouble with this move especially. She liked bending with ice much better. This was to loose and hard to get a grip on. She bended the vine up and got it into a square form. If only I can bend the top and bottom together.. She slowly moved her hand into a pinching movement, but the vine flew up in the air. "Oops." she mumbled and went to sit back down. She was usually so good, but the vine thing always made her mess up. She sat down dejectedly and pulled her knees to her chest. "It's okay, i had trouble at first too." Nue said. He was about 2 years older than her and had been practicing for a long time. She smiled and said, "Thanks."

After the lesson she went back to the camp and began to walked to the docks. She was on boat duty that day and had to wash them. She went with one of her other friends, Deicha. She bended a bubble around her head and jump into the water with a scraper and a rag. She worked for a few hours and at the end had finished around 5 boats. "Thanks Deicha." she said bending the water from their clothes. "Sure thing." he said walking back to camp. She sat their for a while just thinking. She decided to go for a walk. She walked through some trees and out of sight.